Get back to nature at Straw Angel Mill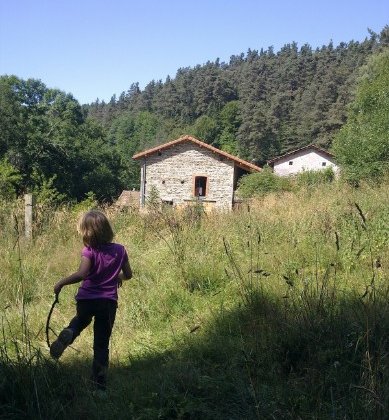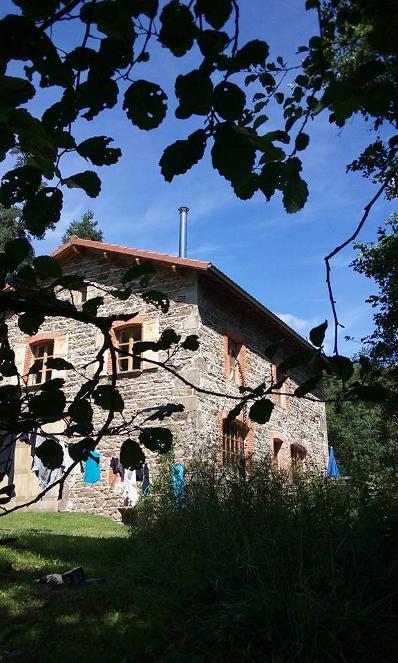 Straw Angel Mill is a special place off the beaten track.
A converted former sawmill, the house was built into the rock of the mountainside early last century, but there has been a mill on this site since before the days of the

1750 Cassini map.

Recent renovations to the first and second floors have both preserved and added to its original, quirky charm.
A flexible and spacious summer home for families or friends holidaying together.
The accommodation consists of an open plan top floor, with a double bed and up to 5 single beds, which can be used as a playroom for children if required. On the first floor there are 2 double bedrooms with views over the stream. One bedroom is en suite to the shared bathroom and the other has a French wood-burning stove. There is also a newly-refurbished kitchen (with fridge, cooker, washing machine and tumble-drier), a lounge with balcony and French windows, a sheltered outdoor dining area overlooking the garden, and a veranda overlooking the stream on the ground floor.
Located in one of France's most unspoilt areas.
The house is in the Parc Livradois Forez, a nature reserve in Puy De Dome, the heart of the Auvergne (France's most unspoilt region). It is set in the Forez mountains which are a part of the Massif Central volcanic mountain range. It is 900 metres above sea level.
A haven for nature-lovers and those looking for a peaceful holiday.
Surrounded by forest and pastures, with many tracks and trails accessible from the house, Straw Angel Mill is ideal for those who love to be outdoors; whether hiking through the natural environment, relaxing by the stream in the privacy of the secluded wild garden or exploring an authentic region that hasn't been overwhelmed by tourists.
Despite the house's secluded setting, both basic needs and special treats are within easy reach - a 5 minute drive or 20 minute walk to a traditional French bakery open daily for fresh baguettes and pastries, and 5 minutes from a mountain pass with a restaurant serving delicious local food. St Antheme ski station is only 20 minutes away and has a mountain lake to swim in when the weather is warm, with a small sandy beach, café, diving platform and lifeguard.
Whether you are interested in nature, wildlife, history, gastronomy or outdoor activities, Straw Angel Mill is a great base from which to explore.
Perfect for those who want to get away from it all.
House & garden
Roll cursor over image for more information: double click to enlarge